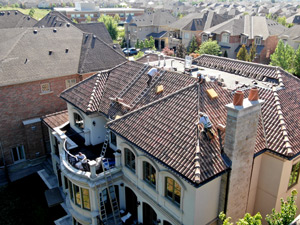 Before you start asking how much does a new roof cost, you should find out what exactly determines its price. Understanding the factors that affect the cost of a new roofing system will help you design a solution that will meet your needs and fit within your budget. Our experienced specialists can help you with this task. One of the most important things you need to understand is that every roofing project is unique. Therefore, learning the average cost of a new roof can give you only the roughest estimate of your actual expenses. In order to learn how much money you will need to get a roofing system you want, you should get a quote from our specialists or use a specialized new roof cost calculator.
Factors That Determine New Roof Cost
The three most important factors that affect the total cost of a new roof are:
Materials. There are a variety of roofing materials available, and the difference in their prices is huge. The most popular options in Toronto, and Ontario as a whole, are:

Asphalt shingles. Reasonably durable (15-30 years) and highly affordable roofing that is easy to maintain.
Metal. Steel and galvanized steel are the cheapest options among metal roofing types, but they are the least durable (30 years). Aluminum fairs better in this regard and its level of weather resistance is higher. Copper is the most beautiful, long lasting (up to 100 years with proper care) and expensive metal roofing option.
…continued under the gallery
Concrete tile. This type of roofing is highly efficient and the tiles look very attractive. They are a great alternative to clay tiles due to their affordability.
Clay tile. Beautiful and extremely long-lasting, this type of roofing is expensive and requires specialized maintenance. However, it can last for over a century.
Wood. Like with metal, there are several kinds of wood roofing available. A cedar roof cost is the highest, but this is the most durable and beautiful of all wood roofing options.
Slate. Natural slate is very expensive but it is impervious to any kind of damage and requires little maintenance. Therefore, the high cost of a slate roof is definitely justified. There are also more affordable synthetic options.
Rubber and plastics. There are a variety of engineered rubber and plastic polymer roofing materials available today. They are mostly used for commercial properties because of the low price and ease of maintenance. As flat residential roofs are getting more popular in Toronto today, you may consider some of these options for your home. Contact our office to learn more about the available materials as well as their strengths and weaknesses.

Size. The bigger your roof is, the higher the costs as you'll need more materials. As measuring a roof and calculating the materials are very difficult tasks, they must be performed by experienced professionals. You also need to be aware that the measurements will differ depending on the type of roofing you choose to install, so the estimate provided by a roof cost calculator may differ from the quote provided after a professional roofer's assessment.
Labor. The cost of labor depends on the type of roofing system you choose and its design. This factor is very flexible, which means that you can reduce the total price by choosing a simpler roofing configuration. For example, a standing seam metal roof cost is the highest when compared to other metal roofing systems, as the seams require a lot of work to install. However, if you choose a ranch-style standing seam roof, the labor cost will be reduced almost by half.
There are other factors that affect the cost of a new roof, and we at Royal Roofing Inc. will be happy to explain each of them to you and help you develop a new roof design that will be most cost-efficient for your property.