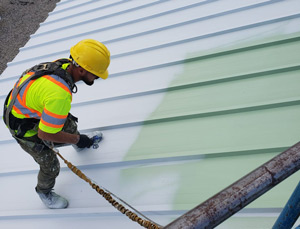 Many people who own residential and commercial buildings assume that minor roof repairs can be done without hiring professionals. This is usually done in order to save some money. In situations when people decide to fix their roofing without trained specialists, they also try to buy cheaper building materials and tools. In reality, everything is quite different: instead of saving, owners of the roofs have to pay more. This is because cheap materials chosen without the help of a professional don't last long and the high-rise works performed by untrained people often lead to damage and injuries.
This is why it's strongly recommended to hire an experienced roof expert who can help handle the roof repair and replacement issues properly. Bt turning to us at Royal Roofing Inc, you can get roofing services of any type and an expert solution to any problem.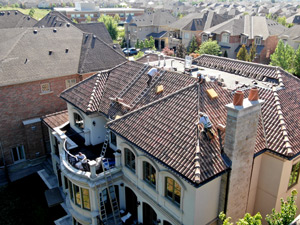 The Reasons to Hire a Roofing Expert
The quality of services. A professional experienced designer is able to construct a roof that will decorate your building smartly without ruining its walls with its weight multiplied by the weight of snow during Toronto winters. After some communication with our designers, you will be surprised to find out how many options are suitable for the building that you own. A team of professional employees will assemble the frame of the roof, help you choose the most suitable, cost-effective, and attractive materials for your particular roof, and install them. One great advantage of working with us is the warranty that accompanies all our services.
The variety of services. If you hire a non-professional or try to repair the roof by yourself, you can quickly end up thinking that working with different materials demands different skills and even different equipment. An experienced roof expert always knows how to cut, join, seal, and assemble different top-layer materials. Besides that, if you hire our contractors, they will provide you with full information on roofing systems that can be a great solution for your building. Here at Royal Roofing Inc, workers can handle everything, starting with the installation of clay tiles and ending with the gutter installation.
No liability. If you undertake high-rise works without proper training, you can get badly injured and nobody will be responsible for it except you. If you hire our roof expert, you can be sure that everything will be fine and that you will not bear any liability even if something goes wrong. Here at Royal Roofing Inc our workers have everything they need to work safely and to keep all the materials and constructions safe, too.
The availability of services. If your roof starts leaking or gives way under the weight of snow, for instance, you will hardly manage the problem quickly and efficiently. Would you like to stay outside for a long time during, say, a frosty Toronto winter? If you wouldn't, you should think of hiring a professional who can handle the trouble in a moment.
Recapitulation: Benefits of Professional Roof Installation & Repair
You should remember that a roof is a thing that should stay whole and undamaged for many years. Manufacturers of many materials used on roofs claim that their product can last for thirty years, for example. If you hire a reliable contractor and choose the proper materials and systems, which will be installed properly, your roof can last a lifetime. Even if small repairs happen from time to time or even if it's necessary to do some maintenance, you should appreciate the economy and comfort that you receive when working with an expert.