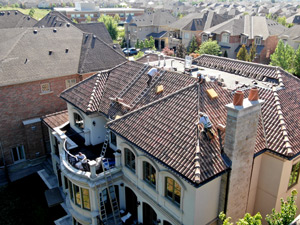 If a roof isn't reliable, the entire building suffers. Roofs are supposed to combine features of waterproofness, durability, reliability, and sound insulation. If you have a frame covered with some top-layer material, it can protect you from the sunbeams, which won't be enough for Toronto buildings. You need a complete roofing system that combines all the aforementioned features. This is possible due to several functional layers, each of which plays its own important role. Their number and functions can vary according to your particular requirements, needs. At Royal Roofing Toronto, we are ready to help you choose roofing system designs, suggest cost-effective materials that will meet all your demand.
What Is a Roofing System?
Many people think that the word's roof and roofing system mean the same. But it's not correct because systems are something more complicated than just roofs. It consists of several vital layers: lathing, waterproofing, a thermal insulation membrane system, and some top-layer material. Apart from this, systems that we provide involve numerous additional elements that make them reliable, safe for usage in both commercial and residential buildings in Toronto.
We provide the development, installation of customized ventilation, and drainage systems. Proper drainage and ventilation help retain the functional, attractive look of your roof. It's important for residential and commercial flat roof systems that suffer from snow and rainwater stagnation. Installation of modern vents is important for industrial roofing systems because powerful and contemporary vents can provide proper circulation of aid within a building.
What Are the Layers of Common Roofing Systems?
Whether you are considering roofing system types like a metal shingle, modified bitumen, or EPDM membrane systems, they have practically alike roofing system components:
waterproof membranes
a heat & steam insulation layer
a drainage system
sound insulation
We recommend the latter option if you choose a
metal shingle roofing system
. Metal solutions need additional attention due to corrosion protection. We at Royal Roofing Inc. use enamels that can protect edges of the materials, fill in scratches and dents that appear on materials such as metal shingle sheets during transportation and cutting. We offer airtight sockets, specialized tapes that secure mounting holes effectively, and don't let moisture in addition to special insulation gaskets that are used with every tapping screw. All of this prevents corrosion, saves you from additional expenses. Apart from this, depending on the type of your roof, we can offer installation of mansard windows, vent turbines, geomembranes of the highest durability for flat roof systems. At Royal Roofing, we can provide additional necessary details like safety elements that help provide the safe maintenance of flat roofing systems, protect you and your property from the piles of snow that fall from truss or hip roofs during severe Toronto winters.
Why Turn to Royal Roofing Inc.?
The choice and installation of roofing systems demand years of experience and expertise. With over 15 years on the market, we at Royal Roofing Toronto are confident that our professionals will be able to help you at every stage of this process. We are ready to discuss the prices and terms of installation or repair. Our well-trained staff will help you pick out the best materials and design a truss or flat roofing system that will serve you for years. We will consider all your needs and the carrying capacity of your property. We use contemporary tools and equipment that guarantee the safety of all the materials and reliability of the roof.