Professional Toronto Roofers
Welcome to Royal Roofing, Professional Toronto Roofers
Royal Roofing is a dedicated and highly skilled team of professional Toronto roofers serving the Greater Toronto area including Toronto, Mississauga, Oakville, Brampton and more. Our Toronto roofers are fully licensed and insured to provide professional residential roofing services as well as commercial roofing services. Since 2008, Royal Roofing has built a solid reputation by providing unsurpassed workmanship, a safe working environment, fast turnaround times and using only quality roofing materials, all at extremely competitive prices. At Royal Roofing we look forward to being your Toronto area roofer.
Roofing Done Right The First Time.
Read Our Reviews On
And Then Decide!
Seharpreet Pandher
2020-09-12
A great company, that provides very quick and reliable service. We had a little leak from our roof so we called them to get an estimate on the repair and got someone to come in the next day and give us a very reasonable estimate. Three days later, Roman came in and fixed the problem and was so nice to even clean out some of the eavestroughs even though that was not part of the job. The cleanup after the job was very good and I would highly recommend getting roof work done from them.
The job was very well done and I am pleased with the results. Thank you for all your good work. I will gladly contact you for any future jobs and recommend you to family and friends. After 9 years no issues with my roof. Thank you for annual check up.
I Strongly Recommend this company, Thank you Nick with making my home waterproof . Looking forward to do next house.
From the first day we contacted Royal Roofing in 2017, we knew that we were dealing with true professionals. Of course it was a no brainer to call them again to install new vents for our bathroom renos in 2019. Nick and Sammy was informative and responsive to our concerns. They got back to us in a timely manner and kept us informed. The crew worked hard (2 hours for the installation of bvents in 2019 and about 12 hours for the roof replacement 2017) to ensure the job was done correctly, the property protected from damage, and the work site left clean. The roof and the vents looks great. I am very happy with this team of professionals. Thanks so much!
Great company for all your roofing needs! I strongly recommend them.
Excellent quality work, punctual, very satisfied with this company. Highly recommended.
I met Nick here about four weeks ago three houses down he was doing a roof from Larry, one of the neighbours. He really impressed me on the work he was doing and the cleanup was fantastic. So I approached him, and talked to him about doing my roof. He gave me an estimate and it was absolutely good work and I appreciate him and it was fun working with him. He does a pretty good job. I don't know any other roofers, I had my roof done twelve years ago and now I had to do it over again and Nick claims that this one is going to last for the rest of my time. He really does a good job, very pleasant to work with.
Professional Toronto Roofers Since 2008
Over the years, our professional team of Toronto roofers has earned a reputation second to none with our specialized approach to providing superior workmanship and using only quality roofing products. You can put your trust in Royal Roofing to provide you with the highest quality installations in the roofing industry. Still not convinced? Check out our
Customer Reviews on HomeStars
and then decide. You'll be glad you did.
We guarantee it
. Our experienced, industry-leading Toronto roofers will help you make the right choice in quality materials for your specific roofing requirements. Royal Roofing specializes in professional roof installations of any and all types and, as always, Royal Roofing ensures your roof will be completed on time and on budget. Your roofing system is a key element to your home which makes choosing the right Toronto roofer such an important decision.
Damaged or leaking roof? No problem. Our experienced and professional roof repair crews are able to service and repair all types of residential and commercial roofing. Our Toronto roofers are certified with all types of roofing repairs including
cedar roof repairs
,
copper / metal roof repairs
,
shingle roof repairs
and
flat roof repairs
featuring modified bitumen, TPO membrane, EPDM rubber membrane and more. Additionally, we'll use materials that are compatible with your existing roof for a visual match…
More About 24/7 Roof Repairs
Undoubtedly, one of the most important parts of your home is your roof. Protect your investment with Royal Roofing Inc. A new roof is a considerable expense and finding the best Toronto roofer for installations and repairs can be a difficult task. Royal Roofing will provide you with the best materials, highest quality in workmanship,
competitive pricing
and a 10-year
warranty
. Royal Roofing has been a leading Toronto roofer for roof repairs and installations since 2008. We'll give you peace of mind and a roof that will protect your home for decades to come…
More About Residential Roofing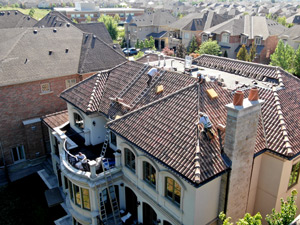 Commercial roofing can be complicated and requires special attention. As commercial Toronto roofers with years of experience, Royal Roofing understands that the long-term performance of a roof depends upon meeting the unique requirements of every project. Our skilled roofers have the practical field knowledge needed to ensure that your roof stands the test of time…
More About Commercial Roofing