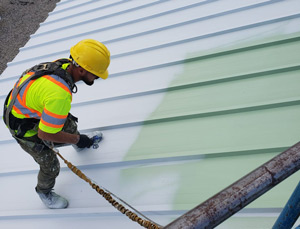 If you want to find out which material is the best for your residential roofing, it's necessary to analyze the features and characteristics of your available options. Just turn to our roofing specialists and they will explain to you all the advantages and drawbacks of the existing materials.
How to Choose the Best Types of Roofing?
Consider the load on the roof. In Toronto, Mississauga and the rest of the area, this parameter has to do with a lot of snow in winter. Apart from this, it's necessary to remember that residential roofing of all types has its own weight.
Consider the durability and safety of the material. This also includes the warranty and the flammability of the available roofing solutions.
Consider the type of the roof and its design. Not all types of roofing materials can be used on all roofs. Some of them are used only on low slopes, others cannot be bent, etc. Our experienced Royal Roofing specialists will suggest the best types of roofing solutions for your particular roof design.
Manufacturers set certain terms for the lifespan of different materials. Yet, some solutions can serve for a much longer time.
Clay tiles: claimed 20 to 30 years (in fact, 100-150 years)
Asphalt shingles: claimed 15 to 20 years (in fact, 30-50 years)
Metal shingles: claimed 5 to 15 years (in fact, 30-50 years)
Corrugated sheets: claimed 15 to 20 years (up to 50 years)
Slate tiles: claimed 30 to 40 years (in fact, up to 50 years)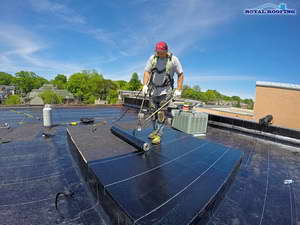 Roll Rubber Roofing: Types
Rubber roofing systems differ based on materials and application procedures. Roll rubber roofing materials most popular in Toronto are:
EPDM (Ethylene Propylene Diene Terpolymer). This is the most popular solution for commercial buildings because it's very affordable, durable, and resistant to damage.
Modified bitumen. This material is even more durable and a great choice for decks and industrial roofs with heavy traffic.
Based on the application procedure there are the following types of rubber roofing:
Fully-adhered. Best for contoured roofs due to the system's flexibility.
Mechanically-fastened. A very strong and reliable system.
Loose-laid. An extremely durable but heavier system.
Take your time to look into all roll rubber roofing options available today and choose carefully. This system can serve you well for decades, and you can make it look like new by applying a coating once every couple of years. This solution is a great option for Toronto, in particular, because it's highly resistant to the damage from the elements and can be easily restored to its original beauty and strength.