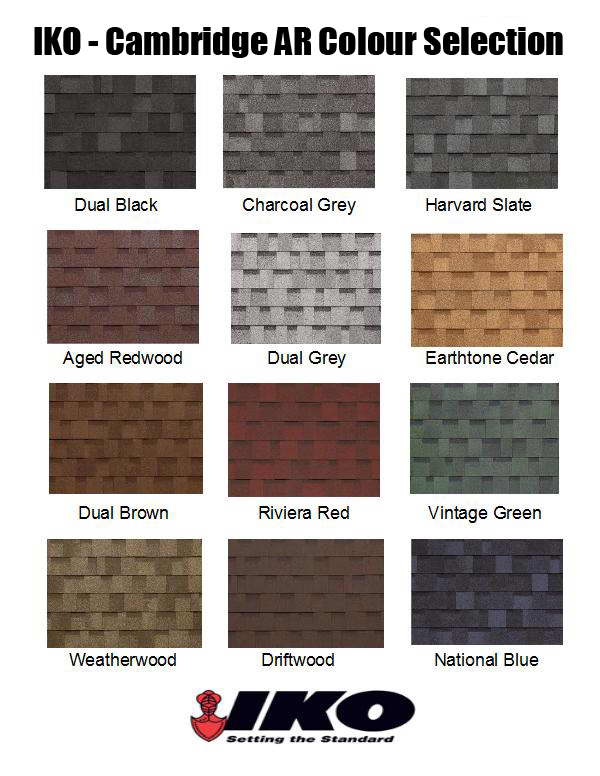 You have built a house or bought one and want to give it individuality and identity? Changing roof color will do the trick. From distance, houses can be distinguished by their roofing color. Its choice affects the appearance of the house and even its price on the market. To help you with this important decision you can hire either a designer or a professional company with a decade of experience. No need to hire a professional designer. At Royal Roofing Inc., a Toronto-based roofing company, we have years of experience with roofing projects all over Toronto. Come visit us and our professional roofers in Toronto will be able to help you choose a shingle color that will complement the building.
How To Choose Shingle Colors In GTA
When choosing roof color besides our personal taste, we need to take into account a number of factors:
● Walls color. If your choice doesn't compliment the walls the whole image of the house can be ruined,
● The roof should be in harmony with the surrounding landscape,
● And importantly color is affected by different types of shingles
Thus the question is how to choose shingle color? Their type is equally important as their color. That is why before moving onto choosing shades, you need to choose the correct type. If you have a specific preferred look, be confident to do your research to learn which of many shingle types carry this particular option.
Architectural shingles are very popular. They offer wide range of pallets. One should keep in mind that their shape and texture matter, for instance, green from one brand will differ from the other. This type has diverse shapes and sizes. It can make a shingle roof look more interesting, expensive and give it a "dimensional" look. If Architectural ones are installed in accordance with the standards they help maintain or raise house value.
Another kind is 3-tab roof shingle. As they have 1 tab size and shape are more simple. They are made up of less material they weigh less than architectural ones. Residential rental property and lower value homeowner still prefer 3-tab, since they cost less than architectural tabs.
While choosing shingles for a house you should take your time to study catalogs offered by different brands.
Shingle brands in Canada like CertainTeed, GAF, and IKO stand out among the other brands with their colours. These manufacturers are trendsetters, each of their products offering a unique blend of colors that can make your roof look incredible.
If you are inclined to buy from CertainTeed you need to see their Presidential Shake collection. It is a luxury shingle created to replicate cedar shakes' look with the performance of fiber glass construction. These tabs are charming and deliver hand-split wood shakes' character. Durability and strength are their advantages over wood.
GAF is another good brand. It offers Affordable Luxury since the cost is much lower than that of traditional slates or wood shakes. They have various Sophisticated designs and wide variety of colour palette you can choose from. They are durable, will serve you decades and generations.
IKO shingle colors are versatile, that is why you should start your research from studying IKO designs. This brand offers three architectural collections. The most popular of them is the IKO Cambridge collection. 15 original IKO shades are available, helping you can find a perfect match to any building's design.
Asphalt is popular roof colour in Toronto. Asphalt shingles have the widest range of shades when compared to other roofing materials. This is the best types you need if your goal is to create a specific look for the building. Nowadays, you can find high-quality asphalt ones that can last for over 30 years, that are very affordable. Study asphalt shingle colors available before you make final decision regarding the roof material.
Roof colors do not simply have power to make the building more attractive but they can make it appear bigger/smaller. Light colors make the roof seem bigger, dark shades have the opposite effect. Therefore, installing a dark gray, brown, or green tabs on small buildings aren't a good idea.
The dark/light colors can affect building's energy-efficiency. On sunny days, dark roofs soak up the heat while white will reflect the light. Luckily, there aren't many scorching hot days in Toronto, thus you don't have to worry about this much. Gray, green, brown roofs look similar.
Visit Us At Royal Roofing Inc. In Mississauga
Our roofing company provides professional commercial, industrial and residential roofing services. We operate for residents of Toronto and the GTA including Mississauga, Oakville, Brampton and more. Royal Roofing has a solid reputation providing unsurpassed roofing services at competitive prices. Our professional technicians have years of experience working on many projects all over Toronto. At Royal Roofing we look forward to helping you choose shingle color that will accentuate the beauty of your house.
Call us at Royal Roofing Inc. and our best Toronto roofers help you choose the roof shingles colors.