Most high-quality modern roofing materials can protect buildings from the majority of weather influences and many other types of aggressive impact. Asphalt roof shingles are among such materials mostly owing to their features that have made them one of the most frequently chosen options. Bitumen or fiberglass asphalt shingles are reliable, functional, durable, attractive, flexible enough to implement any design ideas and decorate any facade. Their various shapes, texture, and colors allow the creation of any look that will match both commercial and residential buildings. Asphalt roofing is flat sheets with edges that are cut differently (triangular, wavy, rectangular, hexagonal, etc.). These edges mostly determine the general look of the roof. To choose ultimate building design, turn to us at Royal Roofing Inc. Our experienced staff will help you choose flattering styles, colors, and shapes. If you are planning complete replacement, they will help you develop projects of new roof frames. The best asphalt shingles can be installed onto practically any slated roof, starting with 12º up to 90º. Even if you have a dome on your roof, it can be covered with lightweight and flexible asphalt shingles.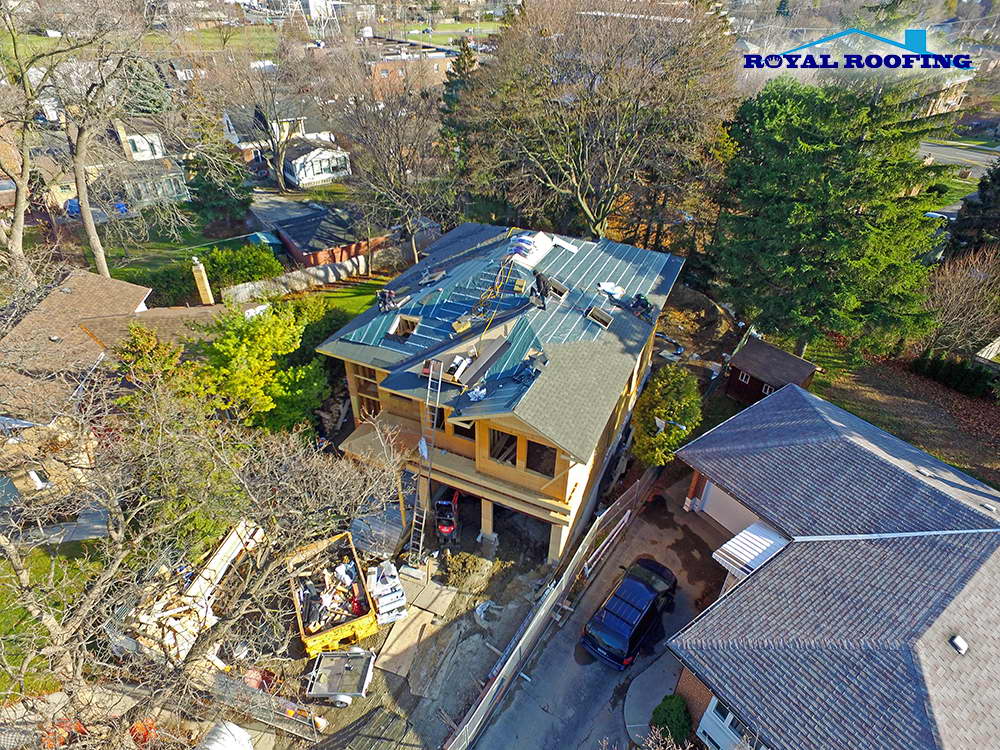 Features of Asphalt Roofing Shingles in GTA
Airtight interlocking seams.
Resistance to rotting under the influence of moisture.
Perfect sound insulation.
Easy and quick installation (doesn't require any specific tools or preparation).
Reinforcement of heat insulation ( important for Toronto winters).
Durability within a wide temperature range (-67ºF to +248ºF).
High decorativeness for long time, even after years of exploitation.
Easy and quick repair.
Small weight that doesn't require any special reinforcement of roof frames.
Though many people think that these features make asphalt roofing suitable for installation by non-professionals, it's always better to turn to the experts. If you decide to install bitumen shingles, connect us at Royal Roofing Inc. Our experts will arrive for roof inspections and help you choose suitable, cost-effective, and attractive option that will last decades.Highly professional installations of the asphalt roofing shingles will save your time, efforts, and money.
The Structure and Durability of Asphalt Shingles
If you still doubt that flexible bitumen shingles are good for your building, let's see what they are made of. This building material consists of several layers of fiberglass canvas and felt. These layers are soaked with special bitumen from both sides. The bitumen layer is reinforced with recycled polymer solutions that give it additional flexibility, resistance to deformations, and durability.
The outer bitumen layer that touches with environmental impacts has an extra layer that is made of mineral particles or granulated basalt. This top layer determines the color of the bitumen roof coatings. The bottom layer of the asphalt roofing shingles needs reinforcement to keep the shingles safe until it's transported to the site. Sometimes this reinforcement consists of silicone sand, sometimes of polyethylene film.
Peculiarities of Asphalt Roofing Shingle Mounting In Mississauga
Due to the small weight, such shingles can be installed on steeper roof slopes with an angle that is no less than 12°. Though the process of mounting involves no serious technical issues, it's necessary to prepare a base that will carry the shingles. Just call us at Royal Roofing Inc or leave free residential or commercial roofing estimates request on our website, our well-trained professionals will build a reliable batten that is made out of plywood or eaves board. This batten will keep the shingles attached no matter the negative environmental impact.
What is the average lifetime of roofing shingles?
Asphalt roofing shingles can have different lifetimes regardless of climate conditions. In cities with cool climates like Toronto, shingles tend to last longer than during warmer climates. External factors, like fungal buildup or an over-accumulation of moss and tree debris, may potentially decrease the lifespan of shingle roofs if the issue is not addressed timely. Another major factor affecting roofs' life is the ventilation quality in the attic space. This is extremely important, as many roofers fail to conduct proper calculations of roof ventilation requirements. If such miscalculations occur, you are not likely to notice the problem until it had already caused serious damage! Some consequences include, but are not limited to:
The voiding of your shingle manufacturer warranty, the quality of your roofing shingle will expire much faster due to attic heat buildup
An increased buildup of attic mould
An increased cost of your energy bill, since more energy is required for either cooling or heating of the house, due to faulty ventilation flows
As such, proper ventilation of your roof is crucial to ensure that your asphalt shingle roofing lasts very long and is not replaced soon after installation. This is why Royal Roofing Inc experts conduct meticulous roof inspections, making sure to check your ventilation flows while providing you with an accurate estimate for the installation of a reliable and long-lasting roof. We guarantee that all of the work conducted by Royal Roofing Inc complies with all the manufacturer's warranty installation requirements. Every roof installation quote comes accompanied with a full list of our factory guarantees.
Organic Shingles
The composition of Organic shingles is based on paper, saturated with asphalt to make them waterproof. Their surface is covered with a layer of ceramic granules. To protect them from deterioration and prevent the growth of moss, some shingles contain leachable copper. Contrary to what someone unfamiliar with roofing may be inclined to assume, organic shingles contain 40% more asphalt than fiberglass. They are much easier to work with, because they are softer, however their heavier weight induces additional pressure on the roof. Therefore, heavier reinforcement may be required for organic shingles compared to fiberglass ones. Organic shingles are better able to withstand extreme, regular weather conditions, and perform better than fiberglass in cold Canadian climates. One other downfall of organic architectural shingles is their higher susceptibility to fire damage. Considering the aforementioned pros and cons, warranties for organic shingles range from 20 to 50 years, depending on the manufacturer.
Fiberglass Shingles In Richmondhill
As is implicit in the name, glass fiber (other chemical additives), coated in asphalt make up the composition of fiberglass shingles. Major benefit of fiberglass shingles is their strong, "A" rated fire resistance. They offer a higher resistance to natural curling that tends to occur overtime, potentially extending your roof's lifespan.
Installing Roof Shingles In Brampton
Before installing your new roof, old shingles should be removed, and roofing plywood must be inspected for damage. The removal process is carried out with the help of a roofing shovel, and the debris resulting from the removal is deposited into a waste container. As a second step in the installation project, flashings must be applied wherever necessary on your roof; around areas like ventilation systems and chimneys. The purpose of flashings is to prevent the leakage of water in places, where drainage occurs after rainfall. For added protection, they are installed in areas, where two section of the roof connect, called the valleys. Finally, the perimeter of the roof is lined with a metal drip edge to deter the buildup of ice dams. Following the installation of flashings, work can proceed to the installation of felt paper. Regular felt paper is used on most of the roof, except the areas on the edges, which are fitted with a special 'winter' layer for extra protection.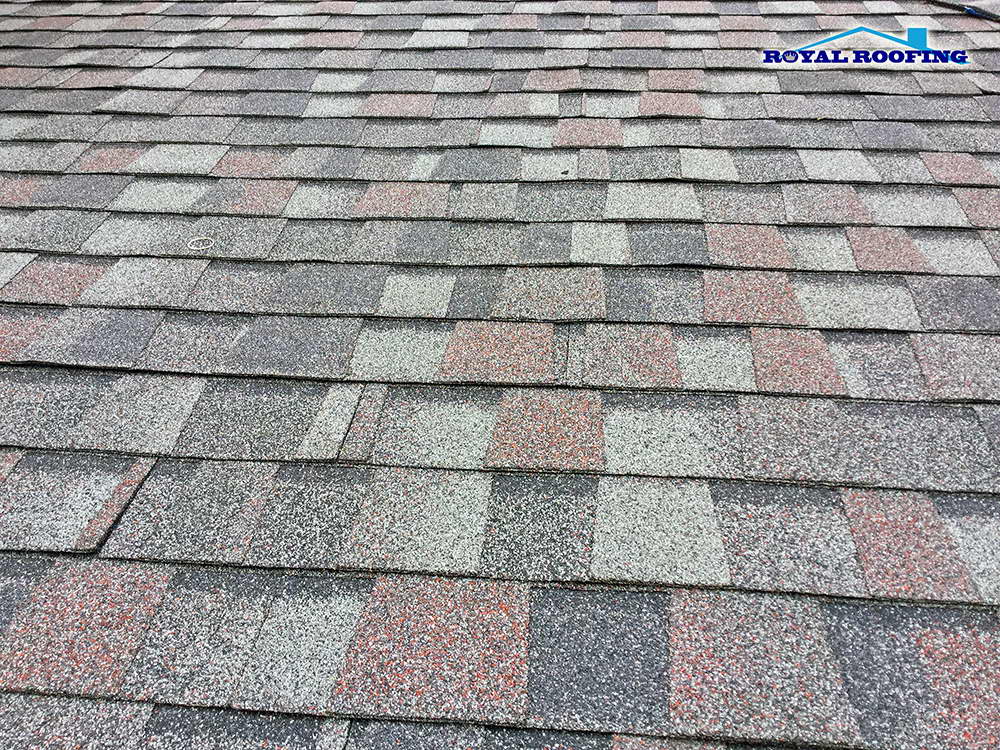 As the process moves on to the installation of asphalt shingles, work begins at the bottom of the roof, moves upwards as it progresses. We install the first row of shingles upside down and then proceed with a regular installation pattern. Shingles are staggered at the joints during installation, which ensures added protection against leaks, prolongs the lifespan of shingles, creates an appealing roof design. Once installation process reaches the top of the roof, the pattern is reversed by nailing the shingles from one side to the opposing one.
A different method is used for the installation of shingles on top of the roof, also referred to as the "roof ridge". The shingle must be cut into 3 pieces, and stylistic purposes, two cuts at a 45 degree angle each are made on the edges of every piece, which can then be nailed to the roof. Custom roof installation is always required for roof valleys and chimneys, as every single row of shingles that meets these areas must be cut. To minimize the potential for drainage, roofing cement is used instead of nails. Finally, a major requirement for asphalt shingle installation is dry weather, we need to work on a dry roof and with dry materials. If rain occures, we temporarily cease our work and cover the work area with a tarp.
Shingle Manufacturers and Warranties
Royal Roofing Inc has worked with and tested a variety of shingles from a number of different manufacturers. We have inspected the impact of different weather conditions on the longevity of many shingles to compare the levels of protection they provide and single out the ones which provide the best performance and require the least maintenance. We have determined that IKO and Landmark (CertainTeed) shingles hold a clear lead in all of the aforementioned criteria, and are our top choice for roofing materials. Landmark is the top quality shingle material, designed by CertainTeed, is your best possible choice. Warranties for these shingles range from 30, 40, 50 years. A more affordable high quality product is IKO roof shingles, which are equipped with warranties of up to 30 years. Please take a look at an example of our recent reroofing project, and note the amazing difference in the improved roof!