Roof tiles have been used by people all over the world for hundreds of years. There is a great variety of them available, and you can see many fine examples of tiles walking down the streets of Toronto. There is no doubt that everyone will be able to find a type of roof tile that will meet their needs and budget. You just need to research all your options carefully so that you can be sure that you choose the one that is truly best for your house.
Factors to Consider When Choosing Roof Tiles
Before you start looking for the perfect type of tile, you need to understand what matters most when it comes to this type of roofing:
Material
Shape (profile)
Design
Cost
The overall design of your house and the configuration of your roofing system will affect your choice as some types of tiles perform better or worse depending on the pitch of the roof. Royal Roofing Inc. technicians will explain the pros and cons of every option.
Roof Tile Types
Among the many types of roof tiles available on the market, the most popular ones in Toronto are:
Slate. Slate roof tiles are affordable, durable, and come in a great variety of styles. As these tiles are available in a great number of colors, it will be easy to find one that will enhance the beauty of the building.
Clay. Clay tiles have been used for thousands of years and some historical buildings still boast their original clay roofs that were installed centuries ago. This is the best proof of this material's durability. Nowadays, you can find clay tiles with different textures, colors, and profiles. This option is rather expensive but it's highly eco-friendly and truly beautiful.
Concrete. There are a wide range of concrete roof tiles available, so it's possible to find the perfect match for any house. This type of roofing is cost-efficient, durable, and requires little maintenance.
Metal. Available in a variety of colors, metal tiles can give your house a rather modern look. These roofs absorb less heat than the most popular asphalt shingles and can help reduce your monthly bills by increasing the energy efficiency of the building. A high-quality metal tile roof is not cheap, but with proper maintenance, it will last a lifetime.
Solar. Solar roof tiles are getting more popular now because aside from efficient protection from the weather, they offer an opportunity to reduce your energy bills. There are several types of solar panel roof tiles available, and their efficiency rate differs depending on the material and configuration. You also need to understand that the amount of sunlight available in Toronto is not sufficient to support your whole house with solar energy. However, this system will help reduce your carbon footprint and will provide substantial savings on electricity over time.
Composite. Composite roof tiles are cheap, lightweight, and durable. They are designed to imitate the look of more expensive types of tiling, such as clay and slate. A roof like this will not be as long-lasting as an authentic one, but it can last for over a decade and requires very little maintenance.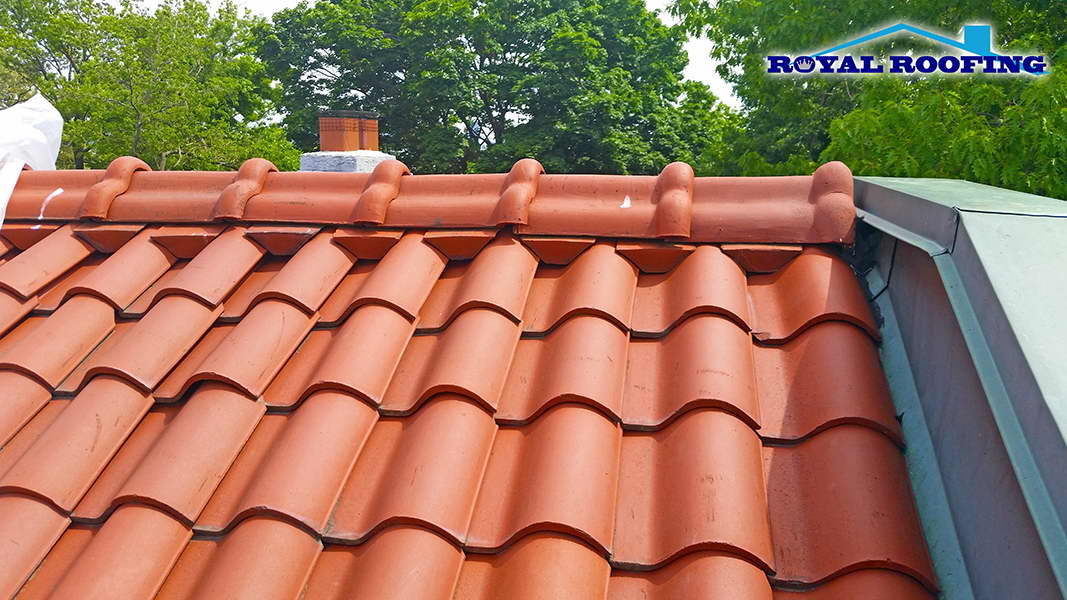 Aside from materials, tiles can be separated into types based on their profile (shape). In this case, the most popular options are:
Flat
Mission (barrel)
Imbrex and tegula
Roman
Pantiles (S-shaped)
Antefixes
One of the biggest benefits of tile roofing is the fact that it's easy to repair. Check out our specialized page to learn the approximate
costs of roof repair
. We at Royal Roofing Inc. can help every Toronto resident choose the best type of tile roof for their property. Our experienced technicians will assess your current roofing system and help you make the right decision by providing quotes and explaining the strengths and weaknesses of every roofing tile type.