Though roofing materials are quite durable to weather influence, they get ruined with time, no matter how well you look after them. Once this day will come and you will need to consider a roof replacement. However, many people miss this moment and end up spending a lot of money on useless repairs. As a result, new patches on the old roof ruin everything and the money is just wasted. The situation is often aggravated by the fact that many owners of buildings perform replacement and repair works by themselves, without the necessary skills and tools. It can lead to many unpleasant turns. So if you have decided that your roof needs some examination and maybe some repair, you should consider turning to our professionals at Royal Roofing Inc. To begin with, we would offer you a thorough roof inspection, so you will know for sure whether you should plan the roof replacement or whether it can last for a little while.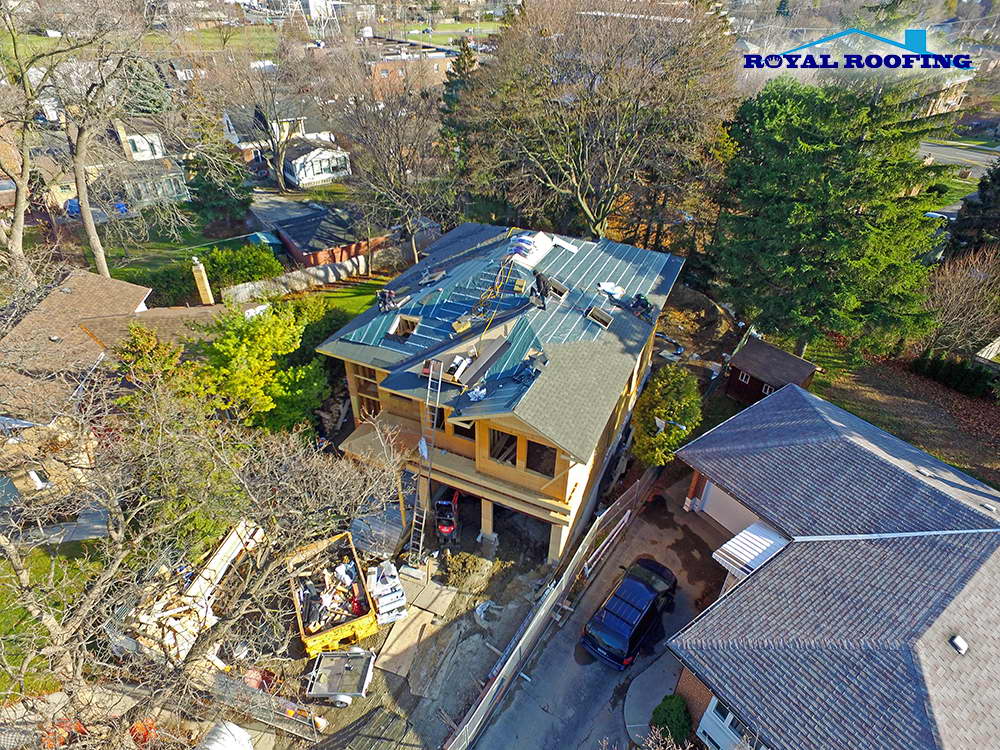 Toronto Roof Replacement Variations
Depending on the type of your roof, the replacement can have different forms. Let's take a closer look at each of them.
Flat roofs. If it's flat, it's probably covered with a single bitumen layer or so. If it starts leaking, develops cracks, or things like that, it's necessary to take it off completely and replace the roof cover with a new, more durable solution or a system that will have additional features. Flat roofs in Toronto are especially vulnerable to the water stagnation that happens when the snow starts melting in spring. That's why such roofs and their finishing need special attention. Trained specialists can repair or replace roof materials with new ones quickly and promptly.
Sloped roofs. These roofs are often finished with clay or composite tiles, asphalt or copper roof shingles, cedar shingles, or shakes, or with natural slates. In such a situation, when the material is not the whole but consists of pieces, it's quite easy to replace damaged parts without ruining the entire construction. However, if you see that something like roof shingles a replacement has to be done, you'd better contact us at Royal Roofing Inc. and hire our professional specialists who will provide you with high-quality service. It's always better to trust such tasks to professionals.
Why Hire a Professional?
You will have better materials. The price is quite often the main factor that many people consider when choosing roofing materials while the quality isn't as considered. However, it's a fact that cheap materials cannot last for a long time. If you turn to our Royal Roofing specialist, we will help you choose affordable and quality materials which can meet your demands and expectations without draining your pockets.
You will have the most efficient solution. If a non-professional decides to do some shingle roof replacement, he will hardly think of insulation, waterproofness, and other things that trained experts to keep in mind. So, if you hire an experienced and skillful person, you will be sure that the corrugated roofing
together or that clay tiles don't lack insulation.
You will save a lot of time, health, and effort. You will not have to do anything. Everything will be done for you. If you hire experts for roof replacement of any type, on any building, they will do it at the most affordable cost, at the time that you choose, and as quickly as you need (without affecting the installation process).
You don't need to purchase any special equipment. The equipment and tools that you may need to repair or replace your roof are quite expensive. You will need it only for a while and then it will gather dust. If you hire professional workers, they will bring everything they need for efficient working and you will not need to purchase anything in addition. Hiring experts at once is the best thing you can do for your roof.