The majority of industrial buildings have flat roofs that are covered with bitumen roofing materials. These materials can last decades under ideal conditions, yet give way due to certain weather or mechanical impacts. Examples are seasonal temperature swings that can be observed at Brampton, Toronto and the area can be ruining for the asphalt. It develops cracks or so, starts leaking, etc.
There are some quick fixes that can patch up these problems fast, yet they are temporary solutions. If you want your roofing to protect the building properly, you will need to employ a professional industrial roof repair service.
Preparation for a Good Repair at Oakville
Before anything new can be applied to an old roof, it's necessary to do some professional inspection. Contact us at Royal Roofing Inc. at Richmondhill, Toronto and our trained experts will arrive to inspect your roof and give you some useful recommendations. It's necessary to remove all the old stuff that can be found on industrial roofs after smaller repairs. If you decide to do repairs with the help of EPDM membranes or torch-on systems, it's necessary to complete the following steps:
Dismantling of the old damaged roofing.
Bitumen industrial roofing materials are normally repaired by installing new layers one over the other, creating a big sandwich. It's possible that there are empty spaces between the layers of old materials. These spaces can be filled with rainwater. Being heated by the sun during warm summers or by the tools used for the repair, this water can cause damage to the roofing material. That's why it's necessary to find the problem spot, remove water, replace damaged parts of the roofing and fill the hole.
Installation of a dash-bond coat.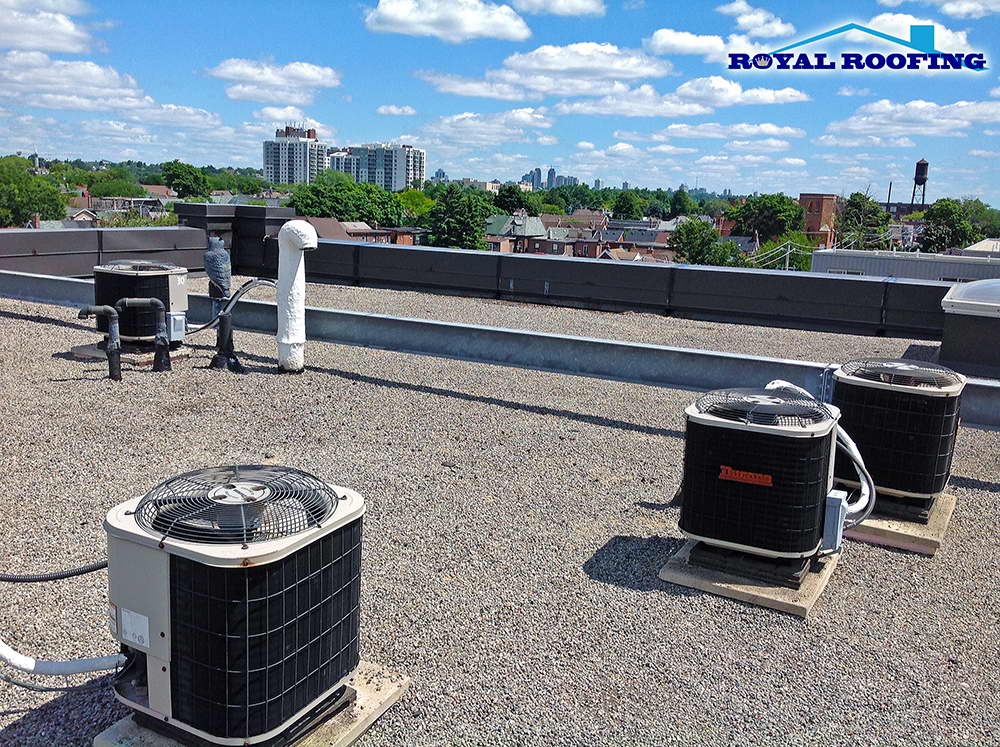 Flat roofs are not perfectly flat because they have an incline that allows water to escape through gutters. The coat is necessary to give the moisture insulation a reliable base layer. If additional insulation is planned, the coat can be covered with an additional layer of underlayment or granular materials.
Grounding of the surface.
It's necessary to create a proper adhesive layer that will provide a reliable bond between the roll roofing materials and the dash-bond coat.
Installation of the modified bitumen layer.
If you wish, several layers can overlap each other for more reliability. It's up to you to decide whether you can afford it and whether you need it. Our experienced specialists will be able to offer you advice regarding this matter and any other issue related to flat industrial roofing repairs.
Additional Services at GTA
Apart from the mentioned industrial roof repair works, it's necessary to inspect, install roof vents, turbines, eavestrough funnels, cornices, etc. Industrial roof repairs mean complete replacement of the roofing material and additional thermal insulation.
You need to determine whether you want to have an exploitable roof that will endure walking on its surface. If you have no precise opinion regarding these questions, call us at Royal Roofing Inc. at Mississauga in Toronto and our trained staff will help you make up your mind and develop your particular industrial roof repair solution.
The Importance of Roof Inspection At Woodbridge
Not to miss the moment when your roof will need profound repair, you should either inspect it on your own or invite specialists. If you detect problems early, the repair will be easier and cheaper.
Give special attention to the seams between parts of the material, to dents and holes on the surface, bulges under the material, stains or signs of oxidation that prove the presence of fungi, deformations, etc. If you detect any of the mentioned signs, turn to us at Royal Roofing Inc. at Woodbridge and our specialists will take care of your roof.
You can save your business thousands of dollars by making sure that you hire a professional, honest contractor, who will make sure to only replace damaged areas and provide quality of work that will last decades to come. Our professional roofers are experienced in commercial, industrial projects and use roofing methods that guarantee you waterproof, smooth, and lasting roofs.
Royal Roofing Inc. at Oakville, specializes in a number of refurbishment and cladding project for different commercial spaces. We undertake asbestos replacement, over-cladding projects, regardless of whether your asbestos sheeting is located underneath the roof itself or in the walls as cladding. Finally, we take special care to ensure that all of our work is completed accordingly to the current building guidelines and regulations.