Flat roofs in Toronto are the ultimate choice of roofing systems for many residents, who own commercial properties. Diverse roofing materials and types are available, it's possible to develop perfect configurations for any kind of building.
Our experienced Toronto flat roofing company can help you design, install, maintain, and repair any kind of roofing system based on your personal needs and budget.
Reasons to Install a Flat Roof in Toronto
Are you wondering why you should choose a flat roof? Check some of the benefits it offers:
It gives you space. This is why commercial flat roofs are popular. As the surface is flat, you can use the space as a storage or recreational area.
It's easy to maintain. Huge number of flat roof coatings and other specialized materials allows keeping this system in a great condition with little effort. The shape of the roof makes it easy to apply treatments, clean the surface, and fix any minor problems.
It's weather-resistant. Flat roofs suffer least amount of damage from the wind compared to other systems. Various professional flat roofing solutions can be applied to increase the water-resistance of the material, increase its density (reduced risk of punctures), and provide a higher level of protection from UV damage. The weather in Toronto can be tiring, this flexibility in upgrades makes flat roofs t cost-efficient roofing systems.
Flat Roof Systems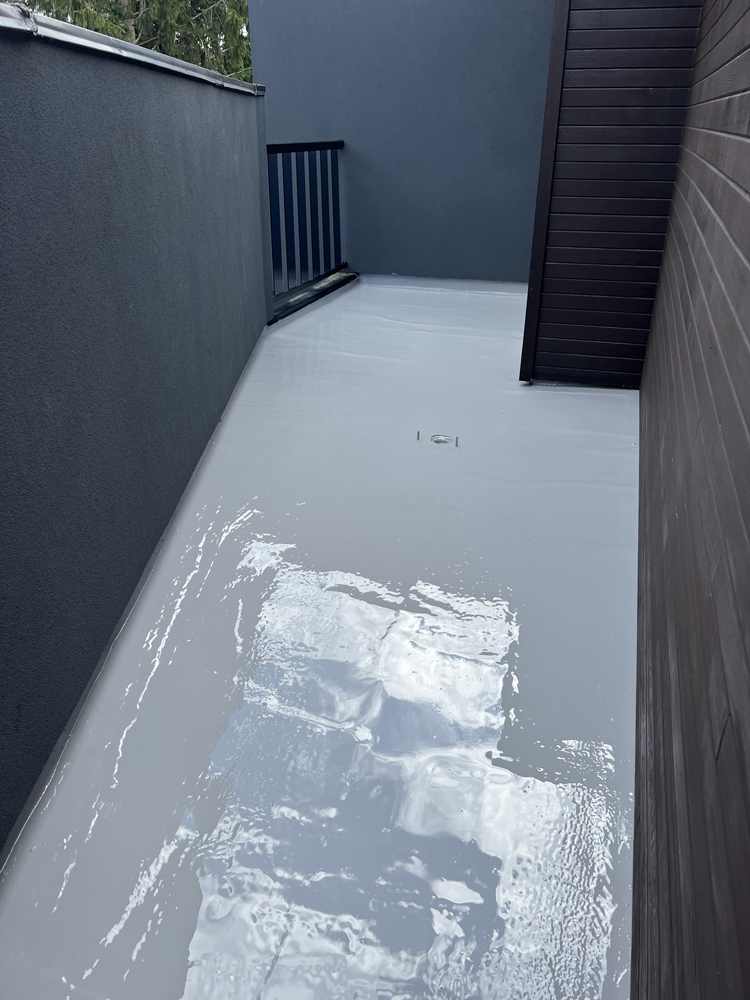 Popular types of flat roofing in Toronto are:
BUR (Built-Up Roof).
Called tar and gravel roofs, these systems are made from several layers of reinforcing fabrics and bitumen. Exact materials may vary, yet these systems perform well and are popular option at the moment. Regular maintenance is essential to ensure the longevity of BURs.
EPDM (Ethylene Propylene Diene Monomer).
A popular type of rubber roofing used in Canada starting from 1960s. It's cost-efficient and reliable.
PVC (Polyvinyl Chloride).
A flexible type of flat roofing good for commercial properties.
Modified Bitumen.
Different types are available, MB systems are flexible, durable, and affordable. A good option for industrial buildings.
Flat Roof Installation
One of the benefits of flat roofing systems is that they can be easily restored or upgraded by using specialized coatings. Popular types of these products are:
Silicone.
Great for Toronto flat roofs. Silicone reduces damages from extreme temperature changes.
Acrylic.
Different colors available, acrylic coatings are the least toxic option among these products.
Thermoplastic (SEBS).
These are thermoplastic elastomers used for MB flat roofing systems. These coatings boost the algae-resistance of the roof.
Foam.
Used for BUR systems, spray foam coatings enhance energy efficiency and increase the lifespan of the surface.
Please note that for any type of flat roof coating to perform, it must be applied by experienced professionals using specialized equipment. At Royal Roofing Inc., we have a team of technicians trained to work with different types of products. We guarantee the quality of their services. Installation, maintenance, flat roof drainage, repair jobs performed by our qualified professionals come with a full workmanship warranty.
Do not forget that flat roof requires regular care to stay in good condition, like other roofing systems. Its surface must be kept free of debris and snow to reduce the material deterioration. The roofing must be inspected (both from the outside and inside) for punctures, water spots, leaks, and other defects. Problems must be fixed to prevent expensive repairs.