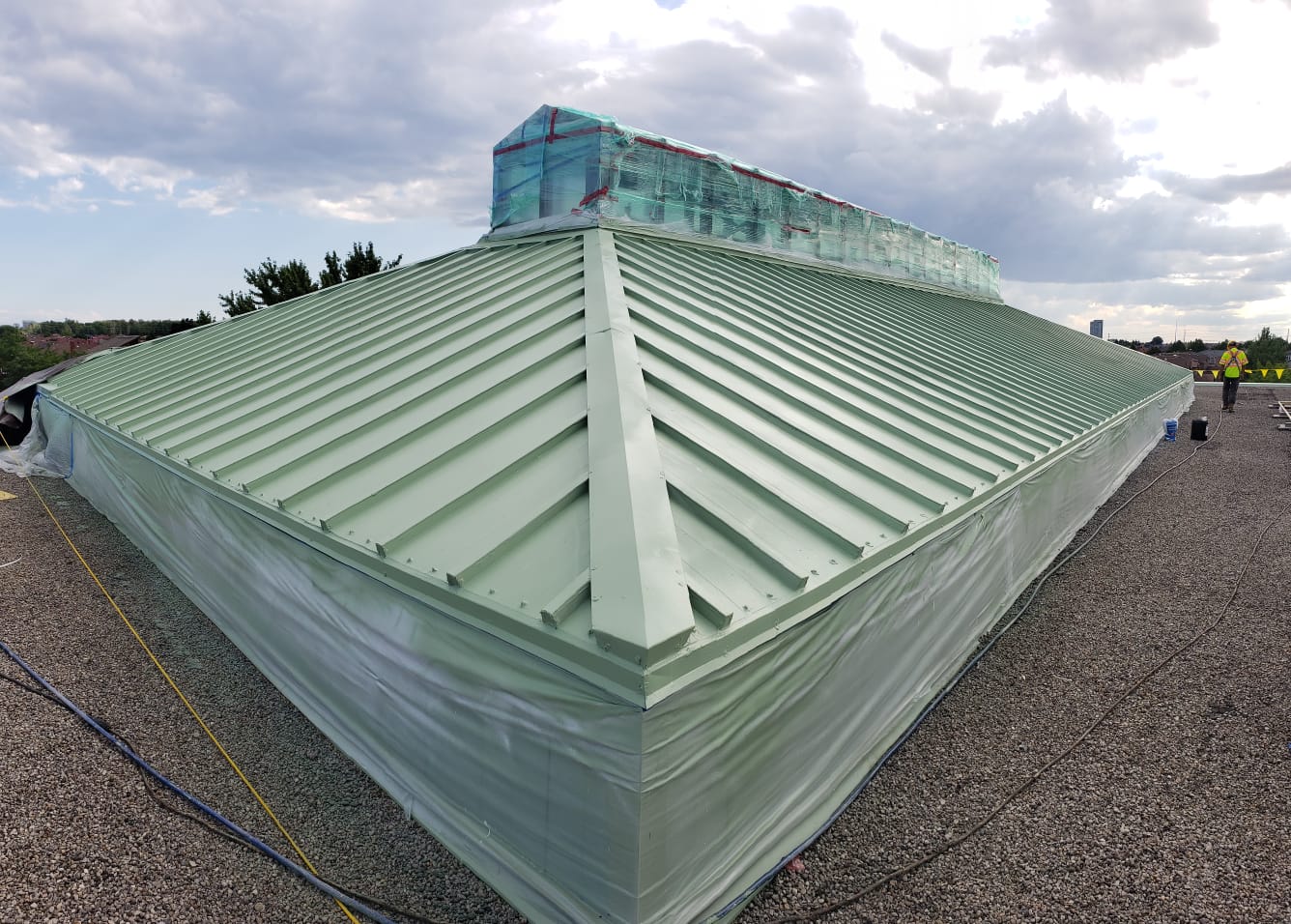 Many residential and commercial buildings have metal roofs that are made out of metal shingles or corrugated sheets. These materials are chosen due to their doubtless advantages and affordable prices. However, metals are quite vulnerable to the impact of the environment. This is why a metal roof requires regular maintenance and repair.
Types of Breakdowns That Require Metal Roofing Repair
Deformations. Metal can get deformed due to either incorrect handling or the environmental influence. For example, corrugated sheets can be deformed in the course of transportation. Sometimes, they can bend in case somebody steps onto them carelessly. Metal roofs of buildings that are located under big trees can be deformed by a fallen branch or even by falling fruits.
Improper installation. Non-professional or inaccurate mounting of metal shingles or sheets can cause problems. As a result, the metal gets torn, seams part, screws fall out, etc. All this causes leaking, soaking the insulation with rainwater, and so on.
Destruction of the protective coating. All metal roofing materials are covered with a protective coating: paint, varnishes, polymers, etc. If these protective materials are destroyed, the metal gets exposed to corrosion. Such a situation requires urgent metal roof rust repair.
Unsecured gaps. The gaps appear when the metal sheets or shingles are installed incorrectly, at a certain distance from each other. These gaps, if they lack sealing, cause leaking more than anything else, and also need an urgent metal roof leak repair.
Leaks. A roof can develop leaks for a variety of reasons, so the first step of the leaking metal roof repair process is to identify the cause of the problem. The technicians will use different types of equipment to examine the system in great detail as sometimes water travels down the construction, so the penetration itself can be located far away from the spot where the water is dripping. Repairing metal roof leaks is a complex process that requires the use of premium-quality supplies. The sealant is particularly important in this case as its reliability determines how long the repair will last. Note that in some cases parts of the system may need to be replaced completely in order to prevent future leaks in this area.
Some types of breakdowns require immediate attention, while others can wait for more suitable conditions. In all cases, however, the metal roof repair should be handled by trained specialists only. Contact us at Royal Roofing Inc. for professional help.
Types of Metal Roofing Repair
There are several types of
metal roofing
repair:
Current. A current metal roof repair usually means replacement of some damaged sheets or shingles with new ones, installation of patches, sealing of gaps and holes, replacement or cleaning of gutters.
Major.
A major metal roof repair normally means replacement of the entire roofing or its major part, replacement of gutters and sometimes even the material that covers the outer walls.
Emergency. Emergency repairs more often mean quick fixing of urgent problems like leaking or insulation breakdowns with the help of patches that are able to last till a more suitable time.
In order to find out, which kind of repair your roof needs, call us at Royal Roofing Inc. and have your roof inspected by professionals. Only such a
roof inspection
will detect the existing problems and potential issues that can show up soon. It will also help you plan the roof repair budget more effectively.
The Importance of Regular Repairs
It's very important to give your metal roof enough attention in order to prolong its lifespan. You need to have your roof inspected by professionals regularly. The exact frequency will depend on the metal, its resistance to corrosion and other impacts of the environment. As this material is highly resistant to any kind of damage, an annual inspection should suffice. However, it's imperative to remember that this task must be performed by professionals as they possess the equipment necessary to spot any defects before they turn into a serious problem.
In order to repair the integrity of your metal roof, Royal Roofing Inc can either replace the damaged metal sheet with a new one or reinstall or repair the existing roof flashing. These are the kind of metal roofs that we repair;
lead
tin
steel
aluminum
corrugated
copper
zinc