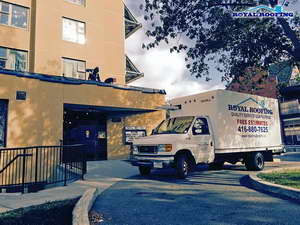 Obtaining a roofing quote is one of the first things you should do when you decide to install a new roof. When you know the price you will need to pay, you will be able to plan your budget more efficiently. We at Royal Roofing Inc. can provide any resident of Toronto and the GTA with an accurate quote fast so that you can move to the next step of your roofing project.
Quote or Calculator?
Despite the fact that many roofs look similar, each of them is unique as every property owner has a list of personal requirements toward their roofing system. Therefore, in order to get an accurate estimate of the total cost, you will need to take each of these tiny details into account. Roofing calculators are very useful tools, but they are severely limited. There are only a few roof parameters you can choose when using this program, which means that it cannot estimate the cost of all those important details. You can use a roof calculator to get some idea about the approximate cost and the number of materials you will need. However, the cost it provides will never be accurate.
In order to have a chance of finding this alternate solution, you will need to consult an experienced roofer so that the specialist can provide you with a quote. The professional will arrive at your place and take the necessary measurements. The speed of this procedure will depend on the size and type of your roof. It's imperative to entrust this task to an experienced technician as only highly qualified personnel will be able to take all the necessary measurements. Next, the roofer will discuss your wishes and other details. Explain exactly what you want as otherwise, the technician won't be able to provide you with an accurate quote. Feel free to ask questions and ask for clarifications and advice in order to be sure that you are really making the right decision regarding your roofing. After the discussion is complete, you will be provided with a quote. With this estimate on hand, you can start planning your budget. If the sum is too big, you can look for alternate solutions, for example changing the material.
The factors that affect the cost of the roof are:
Roofing materials. The cost of the materials constitutes the largest part of the total cost of a roof, so this is the factor you should change in order to find a more affordable solution. There is a variety of inexpensive, durable, and aesthetically appealing roofing materials available today, so you shouldn't have any problems with finding an alternative to luxury materials, like copper, natural slate, and clay tile. If your heart is set on one of these options, we can help you find an affordable imitation made from coated plastic or metal.
Roofing design. The more complex the design, the higher the price because it increases the cost of labor. Including some decorative elements also requires additional materials.
Labor. The cost of labor will vary depending on the roofing type, design, and any external factors that affect the working process. For example, the cost may go up if access to the roof is limited.
Permits. In Toronto, you will need to obtain specialized permits for some types of roofing jobs. Research the regulations in advance to be prepared.
Consider these factors and talk out all the details with the professional assessing your roof in order to get a quote that will be truly accurate.